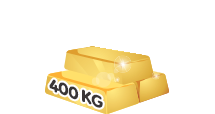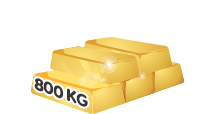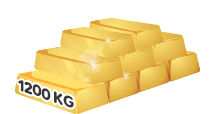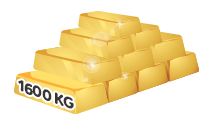 Quick Pick Selection
Manual Selection
1
Entries
Select the number of enteries you would like to purchase
2
Draws
Select the number of draws you would like to purchase
Bet Breakdown
Next Draw Date
26 Sep 2021, Sunday
---
---
The Gold Rush Millions Game
Gold Rush Millions gives you the opportunity to hit gold and pocket up to a hefty R800 Million in payouts! To start winning fortunes, all you need to do is select 6 numbers out of 90, as well as 1 "Super Ball" out of 90.
Betting on the Gold Rush Millions game is simple and effortless! For as little as R5 per bet and draws that take place daily, you stand a chance of winning MILLIONS and at the same time experiencing the real RUSH!
Live Gold Rush Millions Draws
Draws take place daily at 17:00 and results are published shortly after the draw has taken place. To bet on the Gold Rush Millions game, make sure you place your bets before the cut-off time which is 16:00.
All the latest Gold Rush Millions draw results will be made available shortly after each draw and you can view them.
VIEW RESULTS
READ MORE
A little bit of Direction
Payout Booster
Why wait for the big lotto payouts, when you can make your own? LottoStar's booster lets you choose the payout amount you want to WIN!
Use the booster slider at the top left of the play block to choose different boost options. The boost numbers tell you exactly by how many millions of rands you'll increase the total prize. Boost it all the way to the right to maximise your winnings!

Quick Pick Selection
Quick Pick Selection allows you to select the number of entries you would like to purchase in a draw. The numbers of each entry will be randomly selected and where available, one can be able to select the number of draws. The entry selection starts from 1 and 200 is the highest number of selections.
Manual Selection
Manual Selection allows you to manually select your numbers for any number of entries. You can also use the Quick Pick (QP) button to generate your new numbers for each entry.
Quick Pick
Quick Pick allows you to randomly generate numbers for each entry by clicking the QP button.
Max All
The Max All option populates all available entries and sets them to the max boost value. Similarly, you can add more entries by clicking the Add Ticket button.

To delete your selected entries, click the Trash Can icon on the top left of each ticket.
Fixed Odds
When betting on LottoStar, you are placing a fixed odds bet. Please refer to the Terms and Conditions for more information. To view your odds, please click here.
VIEW ODDS